Windows 11 for enterprise

Productive
Improve employee productivity and focus with a simple, powerful user experience.

Collaborative
Discover a smarter way to collaborate with Microsoft Teams integration.

Secure
Protect data and secure access with a Zero Trust-ready operating system.

Consistent
Make adoption easy with app compatibility and cloud management.
Productive and collaborative
Reach your individual and team goals with built-in assistance features in Windows 11.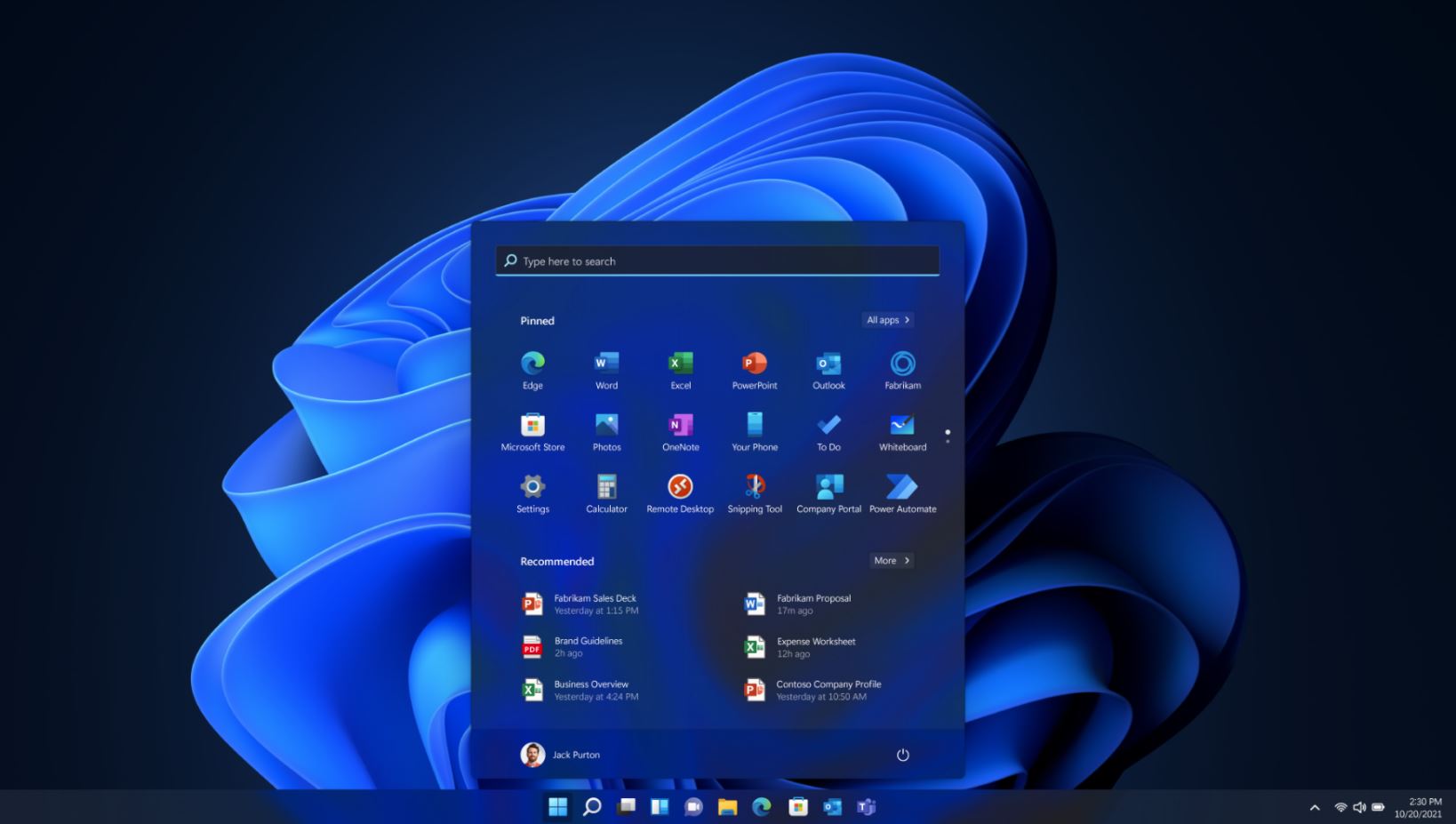 Simple, modern visuals
Focus on what matters with improved yet familiar Windows visuals.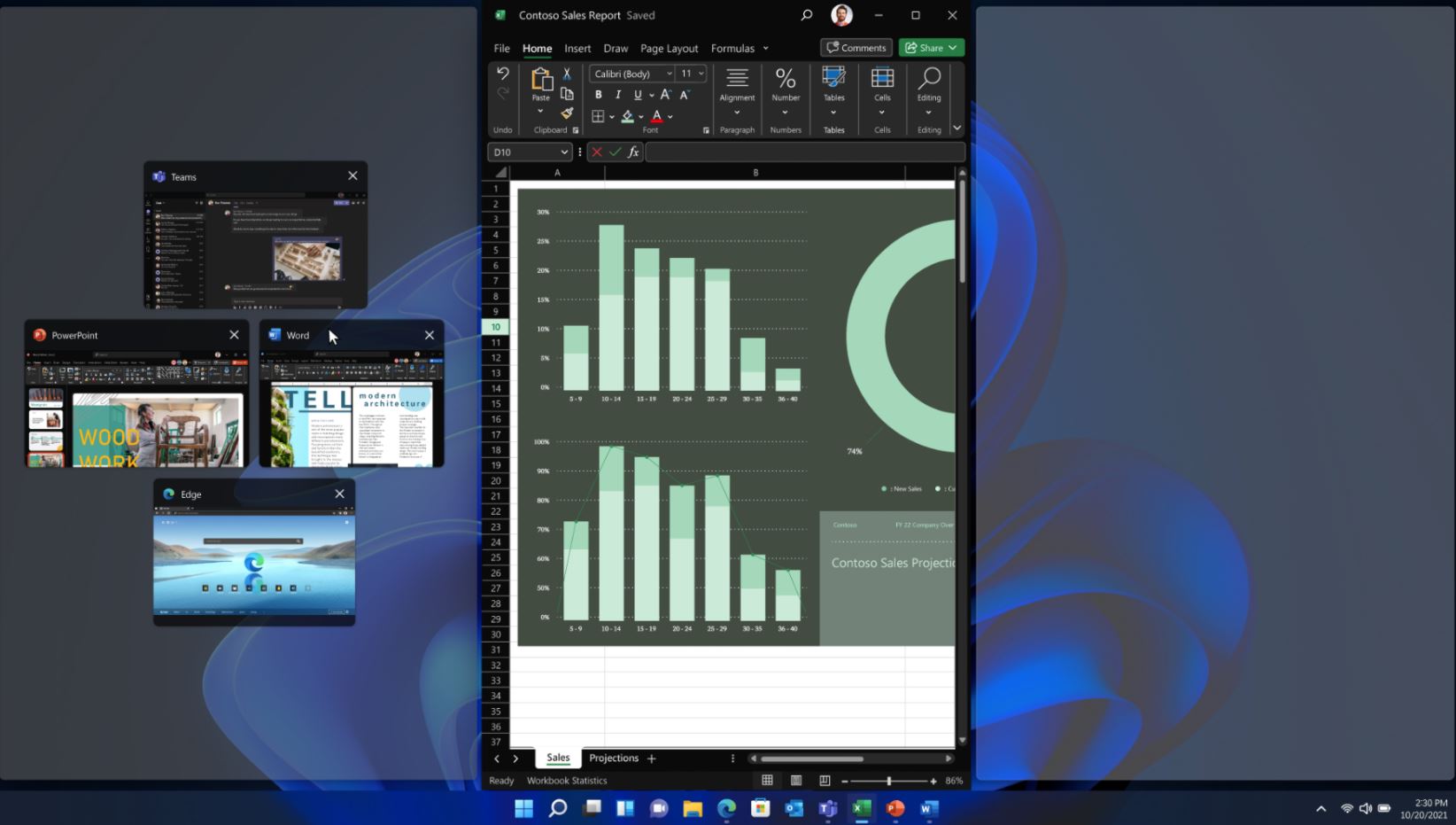 Snap assist
Automatically keep your window layouts saved in perfect arrangement across screens to easily pick up where you left off.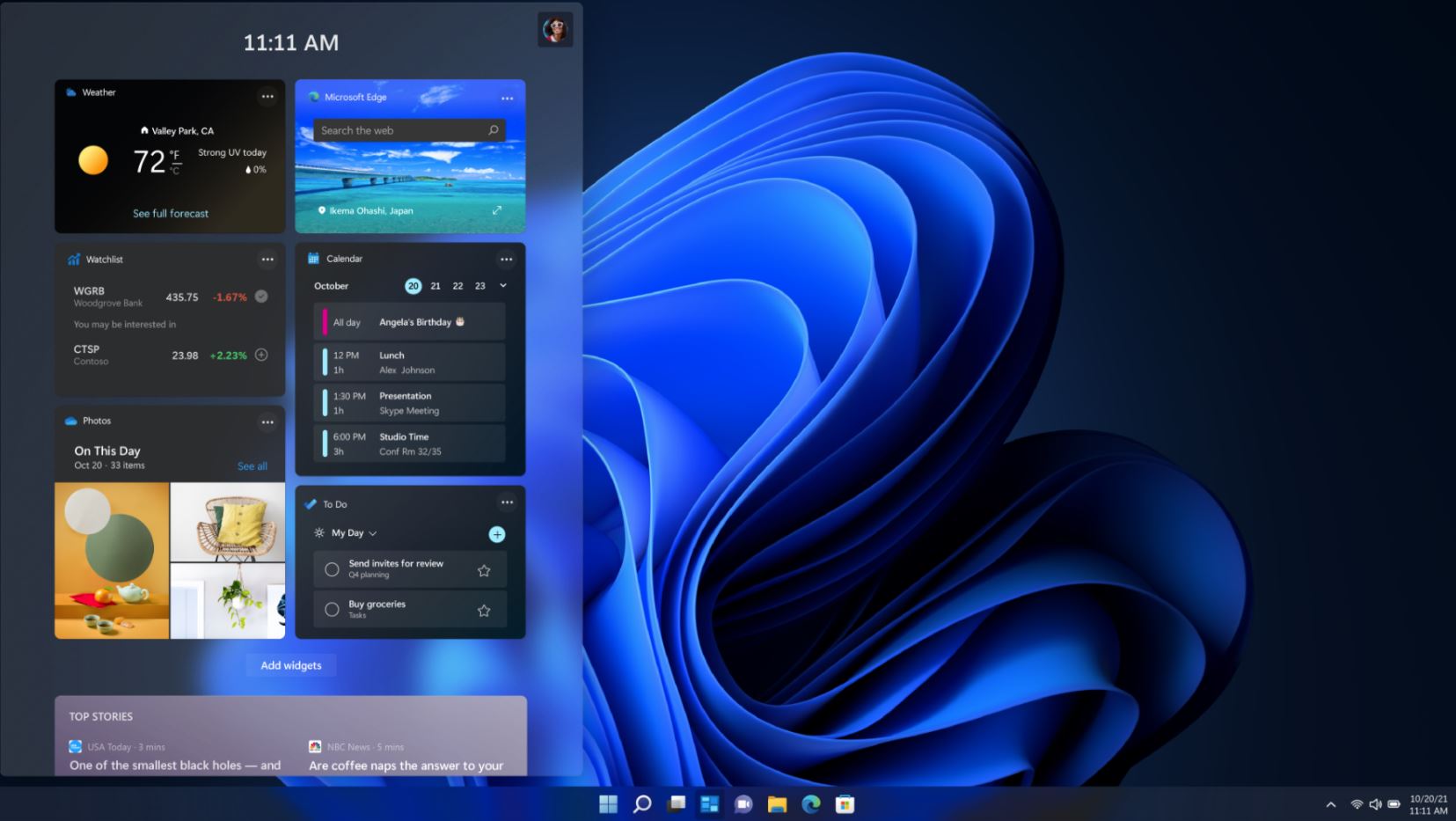 Personalized widgets
Stay on top of what's important with personalized, aggregated content including calendars, tasks, weather, and news.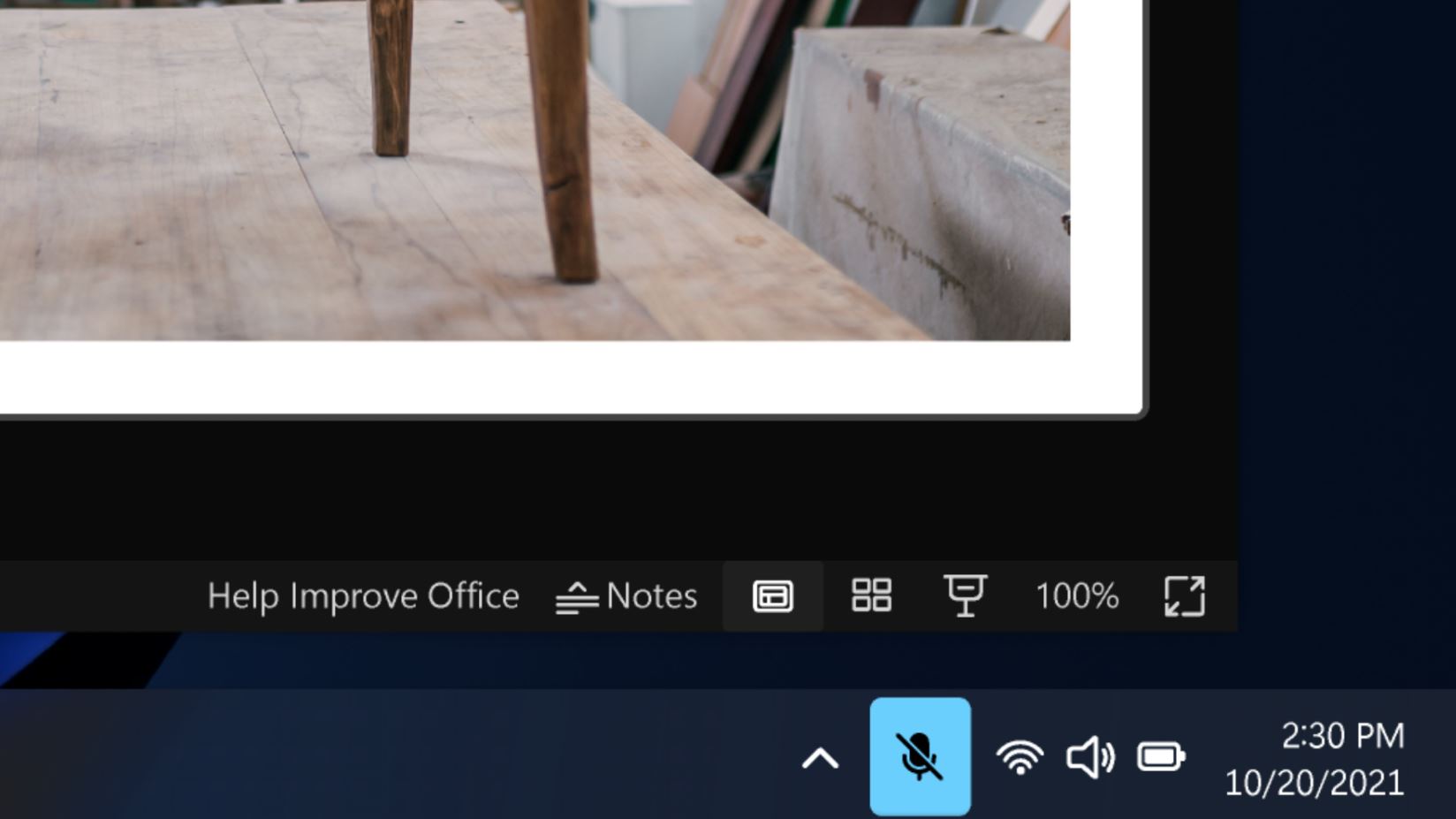 Intelligent video conferencing
Turn your microphone on and off from the taskbar for easier video conferencing.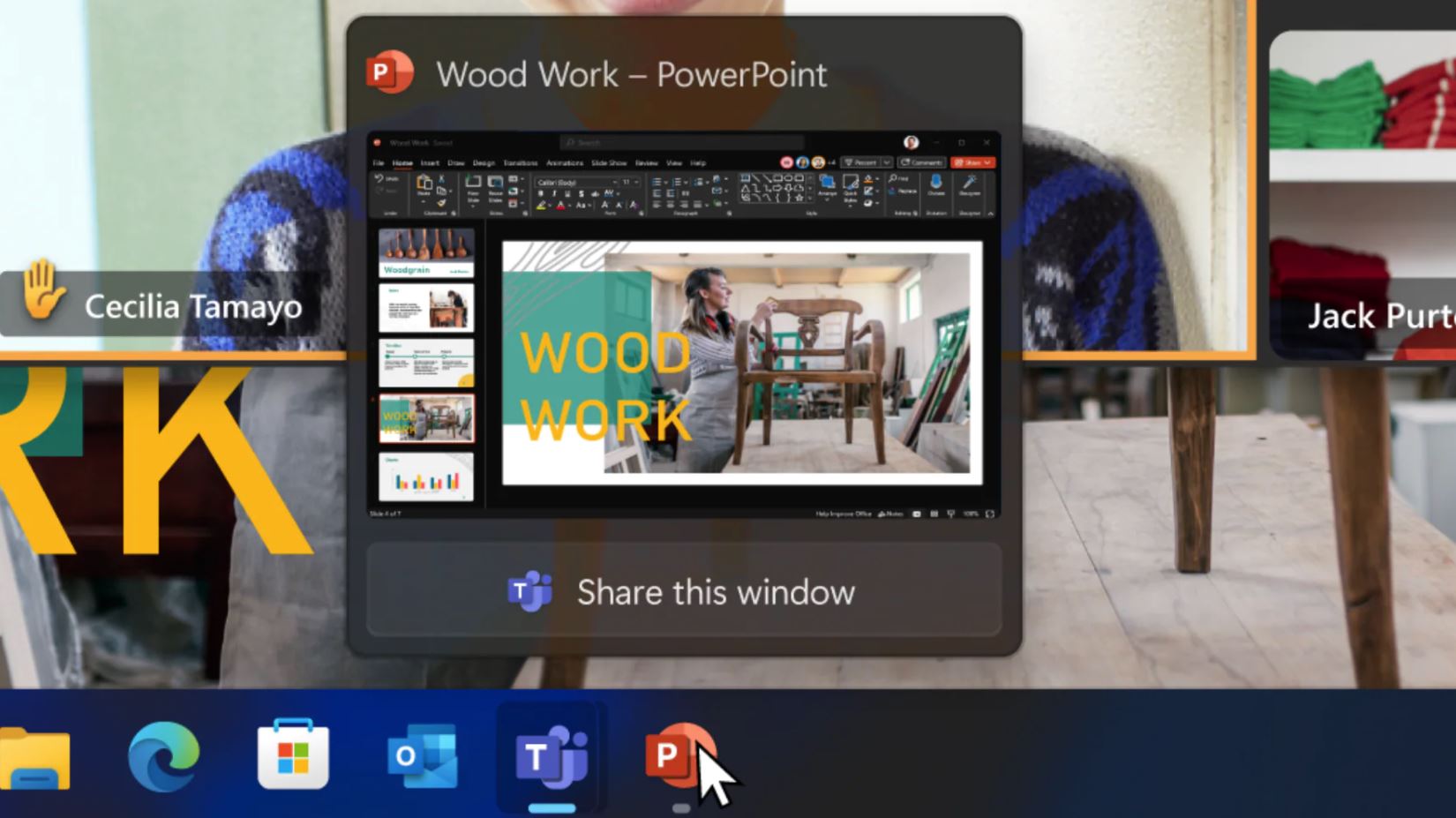 Share a window while presenting
Share any window from your taskbar during a call while maintaining taskbar access.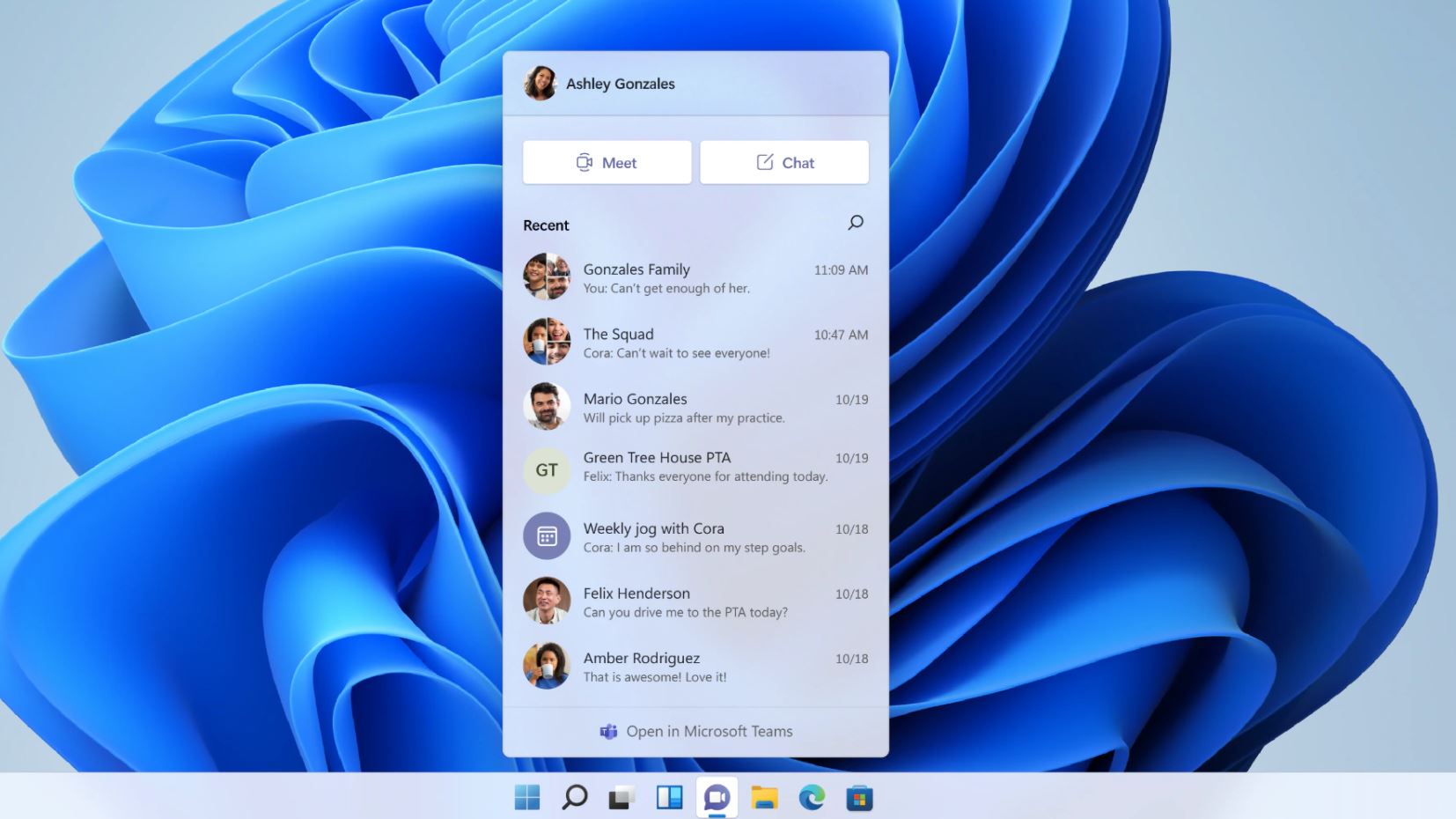 Meet now in Microsoft Teams
Connect with anyone on any platform with fast, easy-to-use calling and chat right from the taskbar.

The most secure Windows yet
Increase security with hardware-based integrity protection in Windows 11, from the silicon to the cloud.

Go passwordless
Get secure, multifactor single sign-on from devices to the cloud and apps with Windows Hello for Business.

Perfect for remote work
Ship employees a corporate-owned device secured by company policy and easily provisioned by them.
Managed from the cloud
Use insights and analytics from cloud-management solutions to help you deploy and update Windows 10 and Windows 11 side by side.
Universal Print
Manage your printers in the cloud and print securely from anywhere.
Apps that just work
Continue using your Windows 10 apps on Windows 11.
Enterprise productivity
Windows 11 is part of a complete productivity, mobility, and security solution.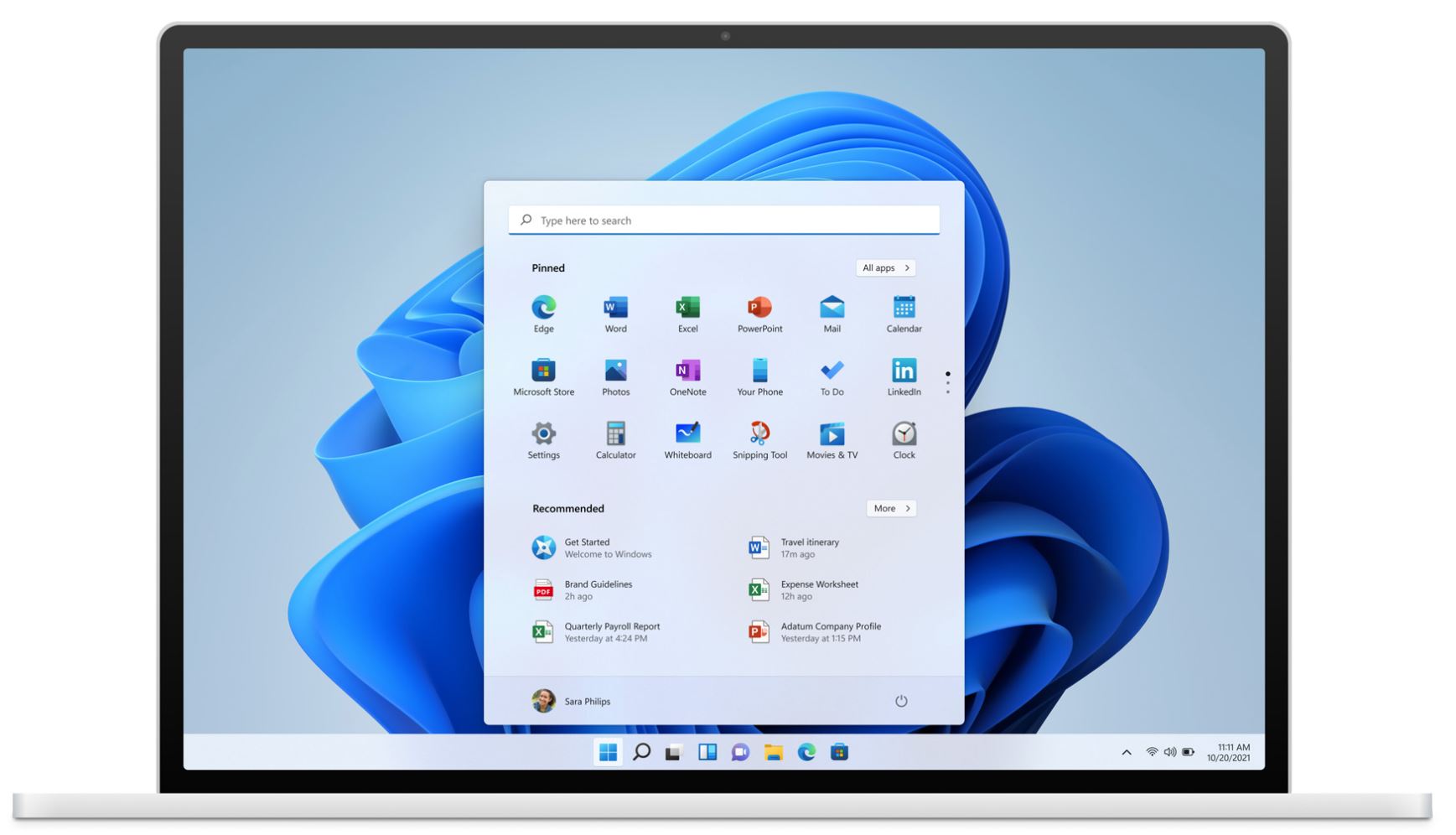 Minimum system requirements
Storage
64 GB or larger storage device
System firmware
UEFI, Secure Boot capable
Graphic cards
DirectX 12 compatible graphics / WDDM 2.x
Display
>9″ with HD Resolution (720p)
Internet connection
Windows 11 Home edition requires internet connectivity and a Microsoft account to complete device setup on first use.
Switching a device out of Windows 11 Home in S mode also requires internet connectivity. Learn more about S mode here.
For all Windows 11 editions, internet access is required to perform updates and to download and take advantage of some features. A Microsoft account is required for some features.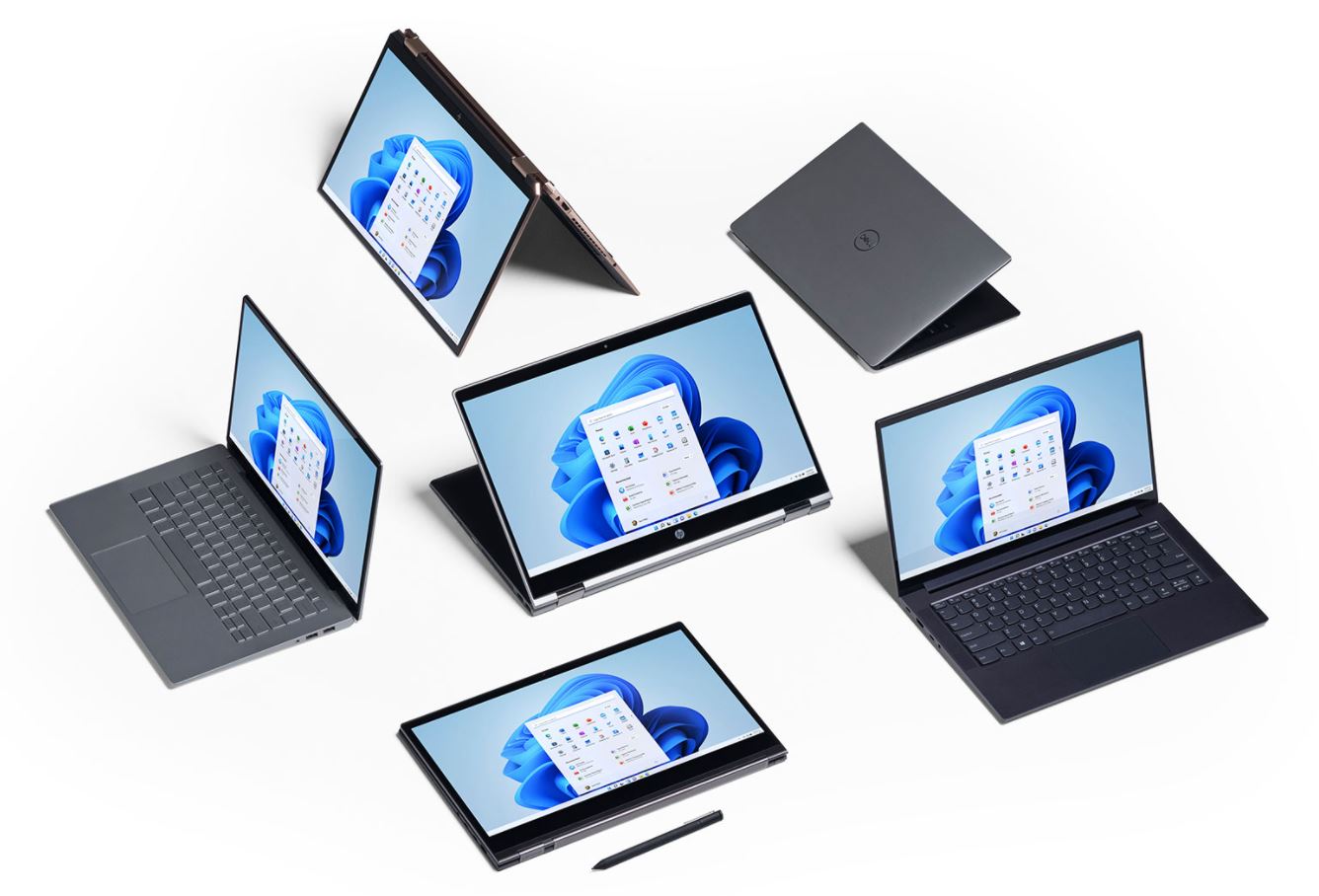 Feature-specific requirements for Windows 11
Some features in Windows 11 have increased requirements beyond those listed above in the minimum requirements section. Below are some additional details regarding requirements for key features:
5G support

 

requires 5G capable modem.
Auto HDR

 

requires an HDR monitor.
BitLocker to Go

 

requires a USB flash drive (available in Windows Pro and above editions).
Client Hyper-V

 

requires a processor with second level address translation (SLAT) capabilities (available in Windows Pro and above editions).
Cortana

 

requires a microphone and speaker and is currently available on Windows 11 for Australia, Brazil, Canada, China, France, Germany, India, Italy, Japan, Mexico, Spain, United Kingdom and United States.
DirectStorage

 

requires an NVMe SSD to store and run games that use the "Standard NVM Express Controller" driver and a DirectX12 GPU with Shader Model 6.0 support.
DirectX 12 Ultimate

 

is available with supported games and graphics chips.
Presence

 

requires sensor that can detect human distance from device or intent to interact with device.
Intelligent Video Conferencing

 

requires video camera, microphone and speaker (audio output).
Multiple Voice Assistant (MVA)

 

requires a microphone and speaker.
Snap

 

three-column layouts require a screen that is 1920 effective pixels or greater in width.
Mute/Unmute from Taskbar requires video camera, microphone and speaker (audio output). App must be compatible with feature to enable global mute/unmute.
Spatial Sound

 

requires supporting hardware and software.
Teams

 

requires video camera, microphone and speaker (audio output).
Touch

 

requires a screen or monitor that supports multi-touch.
Two-factor Authentication

 

requires use of PIN, biometric (fingerprint reader or illuminated infrared camera), or a phone with Wi-Fi or Bluetooth capabilities.
Voice Typing

 

requires a PC with a microphone.
Wake on Voice

 

requires Modern Standby power model and microphone.
Wi-Fi 6E

 

requires new WLAN IHV hardware and driver and a Wi-Fi 6E capable AP/router.
Windows Hello

 

requires a camera configured for near infrared (IR) imaging or fingerprint reader for biometric authentication. Devices without biometric sensors can use Windows Hello with a PIN or portable Microsoft compatible security key.
Windows Projection

 

requires a display adapter which supports Windows Display Driver Model (WDDM) 2.0 and a Wi-Fi adapter that supports Wi-Fi Direct.
Xbox (app)

 

requires an Xbox Live account, which is not available in all regions. See Xbox Live Countries and Regions

 

for the most up-to-date information on availability. Some features in the Xbox app will require an active Xbox Game Pass subscription.

 

Learn more about the pass.
Keeping Windows 11 up-to-date
As part of the effort to continually improve the Windows experience, software updates and fixes are created and released. These updates are delivered to your device during the device's supported lifecycle.
Ensuring that your device is kept up to date is important for your device security and functionality. With an internet connection, Windows 11 will periodically check for updates so you don't have to (ISP fees might apply). You can check to see if there are any pending or optional updates available for your device by going to Settings | Update & Security | Windows Update.
It is important to ensure you have enough free storage space to install updates and you may need to check to see if your hardware is still supported by your Original Equipment Manufacturer (OEM).
Visit the Lifecycle FAQ for Windows products to learn more about Windows lifecycle and servicing policies.
More information on storage space requirements to keep Windows 11 up-to-date
The size of the Windows operating system that comes with your device and the amount of free storage space needed to download and install Windows updates are highly variable as they depend on a variety of factors. Visit here to learn why. The factors that impact the amount of free space needed to take an update include: the versions of Windows previously installed on the machine; the amount of free storage space available from Windows files to reuse, such as the virtual memory pagefile or hibernation file; which applications are installed on your device; and how those applications store data. When updating, Windows will attempt to free up enough space automatically and to guide you through freeing up even more if the automatic clean-up is not sufficient. You can also take steps on your own to free up space.
Windows 11 full localisation languages include: Arabic (Saudi Arabia), Bulgarian (Bulgaria), Chinese (PRC), Chinese (Taiwan), Croatian (Croatia), Czech (Czech Republic), Danish (Denmark), Dutch (Netherlands), English (United Kingdom), English (United States), Estonian (Estonia), Finnish (Finland), French (France), French (Canada), German (Germany), Greek (Greece), Hebrew (Israel), Hungarian (Hungary), Italian (Italy), Japanese (Japan), Korean (Korea), Latvian (Latvia), Lithuanian (Lithuania), Norwegian, Bokmål (Norway), Polish (Poland), Portuguese (Brazil), Portuguese (Portugal), Romanian (Romania), Russian (Russia), Serbian (Latin, Serbia), Slovak (Slovakia), Slovenian (Slovenia), Spanish (Spain), Spanish (Mexico), Swedish (Sweden), Thai (Thailand), Turkish (Turkey), Ukrainian (Ukraine).
Additional languages available as Language Interface Packs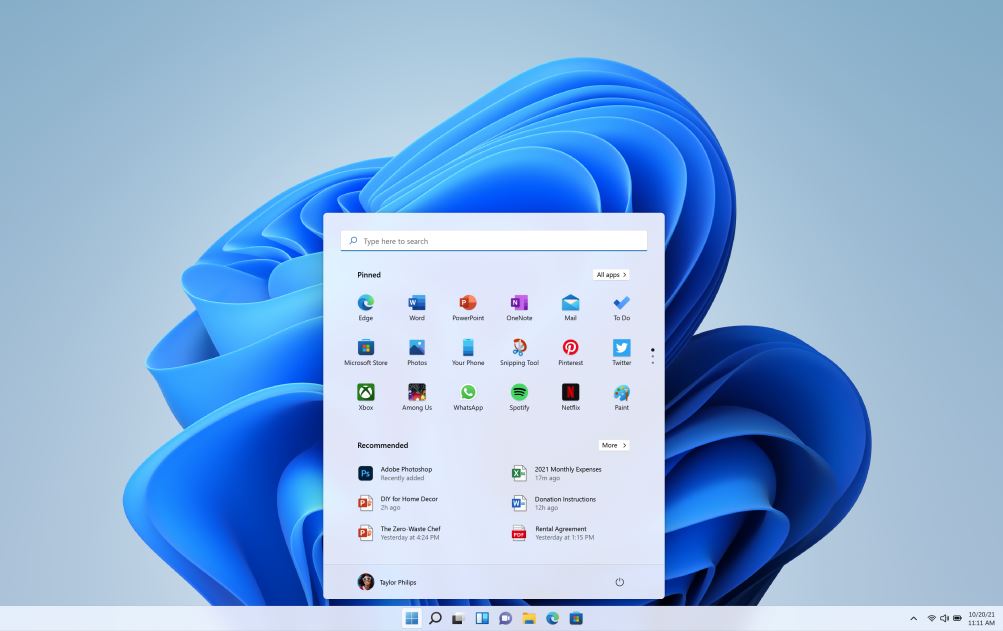 Introduction
Windows 11 is the next evolution of Windows; it is the most significant update to the Windows operating system since Windows 10. It offers many innovations focused on enhancing end-user productivity in a fresh experience that is flexible and fluid. Windows 11 is designed to support today's hybrid work environment, and intended to be the most reliable, secure, connected, and performant Windows operating system ever.
Windows 11 is built on the same foundation as Windows 10, so the investments you have made in tools for update and device management are carried forward. Windows 11 also sustains the application compatibility promise made with Windows 10, supplemented by programs like App Assure. For Microsoft 365 customers seeking further assistance, FastTrack will continue to be available to support your efforts to adopt Windows 11.
How to get Windows 11
Windows 11 will be delivered as an upgrade to eligible devices running Windows 10, beginning later in the 2021 calendar year. Windows 11 will also be available on eligible new devices.
For administrators managing devices on behalf of their organization, Windows 11 will be available through the same, familiar channels that you use today for Windows 10 feature updates. You will be able to use existing deployment and management tools, such as Windows Update for Business, Microsoft Endpoint Manager, and Windows Autopilot. For more information, see Plan for Windows 11.
For devices that are not managed by an organization, the Windows 11 upgrade will be offered to eligible Windows 10 devices through Windows Update using Microsoft's intelligent rollout process to ensure a smooth upgrade experience.
For more information about device eligibility, see Windows 11 requirements.
If you are interested in testing Windows 11 before general availability, you can join the Windows Insider Program or Windows Insider Program for Business. You can also preview Windows 11 by enabling pre-release Windows 10 feature updates in Microsoft Endpoint Configuration Manager or Windows Server Update Services (WSUS).
Before you begin
The following sections provide a quick summary of licensing, compatibility, management, and servicing considerations to help you get started with Windows 11.
Licensing
There are no unique licensing requirements for Windows 11 beyond what is required for Windows 10 devices.
Microsoft 365 licenses that include Windows 10 licenses will permit you to run Windows 11 on supported devices. If you have a volume license, it will equally cover Windows 11 and Windows 10 devices before and after upgrade.
Frequently asked questions about Windows 11
What's the difference between Windows 10 and Windows 11?
Windows 11 has all the power and security of Windows 10 with a redesigned and refreshed look. It also comes with new tools, sounds and apps. Every detail has been considered. All of it comes together to bring you a refreshing experience on your PC.
When can I buy a PC that comes with Windows 11 pre-installed?
PCs with Windows 11 pre-installed will be available later this year.
How much does a PC with Windows 11 cost?
It depends! Many different manufacturers will offer a variety of devices that will run Windows 11, all at different price points.
Where can I buy a PC with Windows 11?
PCs that come with Windows 11 pre-installed will be available from a broad selection of retailers later this year. Details to come.
Will my accessories work with Windows 11?
If your accessories worked with Windows 10 and meet the Windows 11 requirements, they should work with Windows 11. If you want to be sure, please check with your accessory manufacturer.
I want to buy a PC now, will I be able to install Windows 11 later?
How do I know if a new Windows 10 PC meets the minimum requirements?
There are a few ways to find out. If you're currently shopping for a new PC look for "Free upgrade to Windows 11″ on the fact tag. You can also ask your retail sales professional to confirm.
When will I be able to upgrade to Windows 11 on my Windows 10 device?
If your existing Windows 10 PC is running the most current version of Windows 10 and meets the minimum hardware specifications it will be able to upgrade to Windows 11. The upgrade rollout plan is still being finalised, but for most devices already in use today, we expect it to be ready sometime in early 2022. Not all Windows 10 PCs that are eligible to upgrade to Windows 11 will be offered to upgrade at the same time. To see if your PC is eligible to upgrade, download and run the PC Health Check app. Once the upgrade rollout has started, you can check if it is ready for your device by going to Settings/Windows Updates.
What are the minimum hardware requirements for Windows 11?
How do I know if my current Windows 10 PC meets the hardware requirements for Windows 11?
What if my PC doesn't meet the minimum hardware specifications? Can I stay on Windows 10?
Yes! Windows 10 continues to be a great version of Windows. We have committed to supporting Windows 10 through 14 October 2025.
Contact us to get more information
Why pay extra, when you can pay less?