Veeam Backup & Replication
Industry-leading software that designed to be simple, flexible and reliable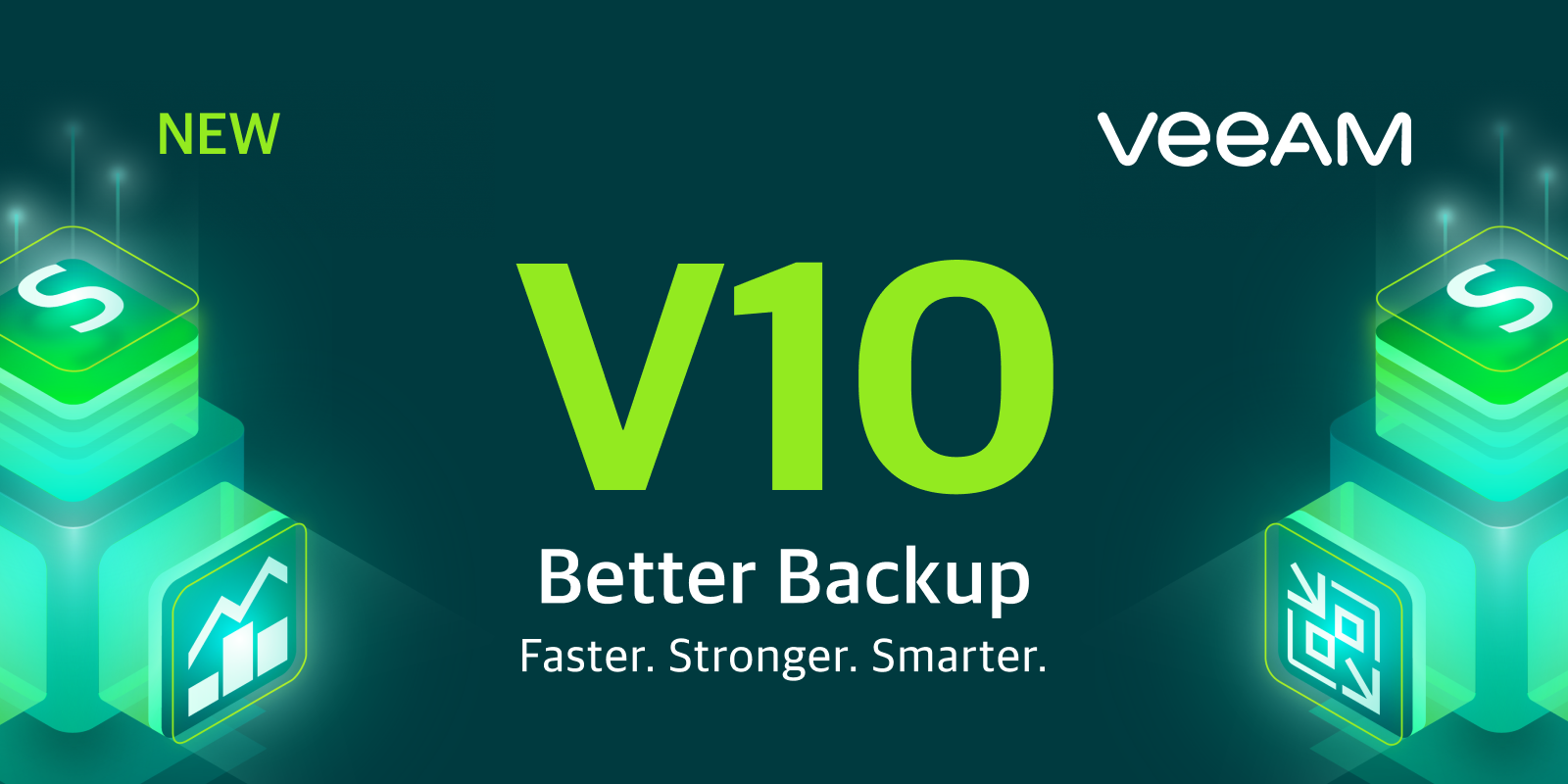 Veeam Backup & Replication
#1 Backup and recovery for any app, any data, across any cloud, Veeam Backup & Replication is the one solution for simple, reliable and flexible protection of ALL of your cloud, virtual and physical workloads.  Take the stress out of managing your data protection, ransomware prevention and compliance challenges.  With key features that allow you to completely manage your entire backup data lifecycle, Veeam saves you time and money, simplifying administration and minimizing costly downtime.  Now you can focus on driving your business objectives forward with confidence.

Simple
Data protection that's simple to deploy and easier to use, helping you focus on outcomes.

Flexible
Meet your objectives with the flexibility of storage and vendors that are best for your business.

Reliable
Be ready for any backup, recovery or availability challenge with Veeam, as it just works.
Reliable backup
Reliably back up any workload, achieve shorter backup times and reduce operational costs with unparalleled flexibility.
Don't just hope that it's protected — trust in Veeam.
Businesses today face a multitude of challenges when it comes to IT and data management. Public clouds are a rapidly expanding component of most businesses' data center strategies, and IT professionals struggle with how to efficiently protect, migrate and manage data between their on-premises and cloud data centers.
It's time to be flexible as everything needs to be protected – cloud, virtual, physical – it's all part of your data center now. Rely on the simplicity that only Veeam® can deliver with comprehensive backups of everything that runs your business.
Cloud – Backup in, to or from the cloud
Virtual – VMware vSphere, Microsoft Hyper-V and Nutanix AHV
Physical – Microsoft Windows, Linux and Unix
Network-attached storage backup
Modernize and simplify the protection of unstructured file data and file servers at scale with powerful new capabilities that bring flexibility to NAS data protection and recovery, greatly reducing storage costs while improving recovery times.
Faster incremental backups on commodity hardware to deliver scalable protection for unstructured file data through innovative file change tracking capability.
The flexibility to store your unstructured NAS data on cheaper storage with the ability to easily tier to the cloud.
Many restore options — entire share recovery to address complete hardware loss or NAS migration, point-in-time share rollback to quickly recover from ransomware attacks, and file-level recovery with global search for day-to-day operational restores.
Scale-out backup repository
Consolidate and extend your backup repositories with the powerful Scale-out Backup Repository (SOBR). Choose where your backups go, keep backups together, and restore with confidence. Select between higher-performance local targets or longer-term object storage in the Cloud Tier to meet your recovery and cost objectives.
Achieve the 3-2-1 backup rule faster than ever, ensuring that you are remaining compliant and are ready for any disaster.
New automated Cloud Tier copy mode allowing for duplicating backups to object storage as soon as they are created — providing fast redundancy for your backup repositories.
Seal your SOBR storage extents, preventing new writes or changes to existing data while still allowing restores and retention to continue while your data ages out.
Application-aware backup
Protect your applications with production impact via direct integration into native tools including Microsoft Volume Shadow Copy Services (VSS), Oracle Recovery Manager (RMAN) and SAP HANA Backint, ensuring that your application data is captured during backup and ready for recovery.
SureBackup
Ensure recoverability of any protected system through live verification of the backup copy that scans for malware, mounts and runs tests against it as a virtual machine (VM) in an isolated environment and generates recovery verification results for review.
Storage agnostic destinations
Take advantage of storage efficiencies that Veeam uniquely delivers through strong integration with leading storage vendors regardless of format – leverage Veeam's flexibility in robust storage functionality for cloud, disk or tape to get the most out of your hardware investment.
Fast recovery
Lightning-fast restores for files, virtual machines (VMs), NAS and applications, ensuring low recovery time objectives (RTOs).
Save your data from the clutches of disaster.
Stop downtime with lightning-fast, guaranteed restores at your fingertips for ANY recovery scenario. Veeam® Backup & Replication™ provides data recovery options for businesses of all sizes, and has the ability to backup and restore multiple types of data no matter the type of application or environment:
Cloud – Restore in, to or from the cloud
Virtual – VMware vSphere, Microsoft Hyper-V and Nutanix AHV
Physical – Microsoft Windows, Linux and Unix
Applications – Active Directory, SQL, Exchange, SharePoint, Oracle and SAP HANA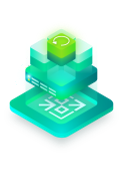 Instant VM recovery
Instantly recover ANY Veeam backup to VMware vSphere within minutes, providing you with the speed, flexibility and portability required when recovering or migrating your data.
Meet RTOs for any data, application, or location with up to 5x increase in recovery speed.
Reduce your recovery footprint by restoring just the individual disks that are needed for extremely large VMs with Instant VM disk recovery.
Less downtime associated with recovery and migration operations is achieved via simultaneous Instant Recovery of multiple VMs.
System and file recovery
Deliver full system and file level recovery for Windows, Linux and UNIX, offering granular point in time recovery, even for the massive file data in unstructured NAS storage.
Application recovery
Lightning-fast and reliable restores for applications and application items, giving you the confidence in virtually every recovery scenario to attain low recovery time objectives.
Cloud/data portability
Natively back up, recover or migrate any workload to and from AWS or Microsoft Azure to keep your data safe from attack.
Extend Veeam protection to any public cloud.
Whether you're just starting out or far along your journey to the cloud, you know it can be a powerful extension for your data center and application strategy. With Veeam's® seamless support for the cloud and unrivaled data portability, you can harness the power and agility of the cloud while minimizing data loss and storage costs. Remember, building contingency plans in case something fails applies to the cloud just like on-premises environments. Customers need to: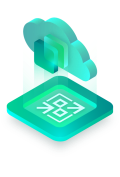 Protect workloads in the cloud
Store backups in the cloud for redundancy and flexibility
Leverage the cloud for disaster recovery (DR)
Veeam supports a variety of cloud capabilities across a list of cloud services:



Cloud-native backup and recovery
Accelerate hybrid-cloud adoption with AWS- and Azure1 and multi-cloud data protection and management while improving cost-efficiency and security through:
A single platform for cloud, virtual and physical environments to unify AWS and Azure (coming soon) data management, backup and recovery alongside on-premises and public cloud workloads.
Enhanced cloud mobility to enable unrivaled data portability with backup, recovery and migration to and from ANY environment while ensuring data protection continuity.
A flexible and portable Veeam Universal License (VUL) that drives greater value while simplifying license management by moving with your workloads across any platform.
Veeam Cloud Tier
Ensure backups are recoverable, off-site and 100% protected from ransomware with Amazon S3 Object Lock Immutability with automated copy to object storage that achieves the 3-2-1 Rule faster than ever.
Restore directly to cloud
Achieve fast and easy portability and recovery of any backup directly to AWS, Azure and Azure Stack in two simple steps. Directly restore any backup to the cloud for immediate access.
Veeam Cloud Connect
Fully-integrated, cloud-based DR replication and fast, secure cloud backup with Veeam Cloud Connect through Veeam's large ecosystem of capable service providers.
Intelligent data re-use
Reuse your backup data to ensure security, compliance, recoverability, successful upgrades and make smarter decisions.
A gold mine of valuable data is wrapped up in your backups and replicas. These copies of your production data typically sit idle, collecting dust and waiting to be used in a recovery scenario. Did you know that you can use this copy data for use cases that are well beyond traditional backup and recovery? With Veeam® DataLabs™ – part of Veeam Backup & Replication™ – you can!
Adding to the longstanding ability to verify the recoverability of backups and replicas, Veeam DataLabs unlocks multiple use cases for copy data that goes beyond data protection and drives cost and operational efficiency while improving business agility. This includes the ability to achieve faster application deployment, mitigate risk by testing new upgrades and patches before rolling them out, DevOps, DevTest and even security and compliance verification.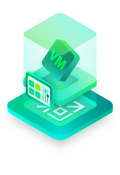 Secure replication
Use imaged-based replication and streamlined disaster recovery (DR) for increased speed, security and availability. 
Availability via built-in replication.
Ensuring that your organization's mission-critical data remains available is essential to delivering on SLAs. In today's age of massive unstructured data growth, regulatory compliance requirements for DR and retention and the constant threat to data through malicious acts, the 3-2-1 rule is more important than ever. Veeam® Backup & Replication™ makes this simple with built-in replication that ensures your data gets to its destination in an encrypted fashion that's delivered quickly. Avoid data loss and dramatically improve your recovery time and point objectives (RTOs/RPOs) to <15 minutes for ALL applications and data, minimizing the impact on your infrastructure.
To remain best protected, you should follow the 3-2-1 rule; have at least three copies of your data stored in two locations, with at least one being kept offsite. Let's add to that by adding another "1" to the rule where one of the media copies is offline or immutable, and a "0" to show that the backup was verified and ready for recovery.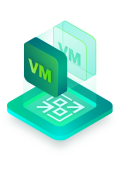 Built-in replication
To get the best Recovery Time Objectives (RTO), Veeam Backup & Replication can create an exact copy of your VM in a ready-to-start state, stored natively on a spare host in VMware vSphere or Hyper-V.
Accelerate any WAN
Solving common problems encountered during off-site backups, Veeam Backup & Replication gets data to its destination on through built-in WAN acceleration delivered by combining compression, multi-streaming and deduplication.
Keep your data safe
Ensure that data arrives safely to its destination with 256-bit Advanced Encryption Standard (AES) encryption. Adding network traffic encryption is configured as part of global network traffic rules making management a simple, global task.
Smart storage
Create fast backups and replicas from snapshots by using hardware from nearly any storage provider, without lock-in.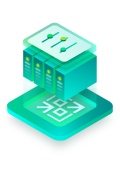 Backup from Storage Snapshots:
Create backups and replicas directly from storage snapshots.
Integrate with the world's leading storage providers
Minimize data loss without sacrificing productivity
Back up and replicate as often as every 15 minutes
Fast VMware vSphere Backup with Low RPOs
Achieve High Availability through a combination of Veeam® Backup & Replication™ and the world's leading storage providers. With Veeam, you can create true backups and replicas from snapshots as often as you'd like — even during business hours — with little to no impact on your production environment.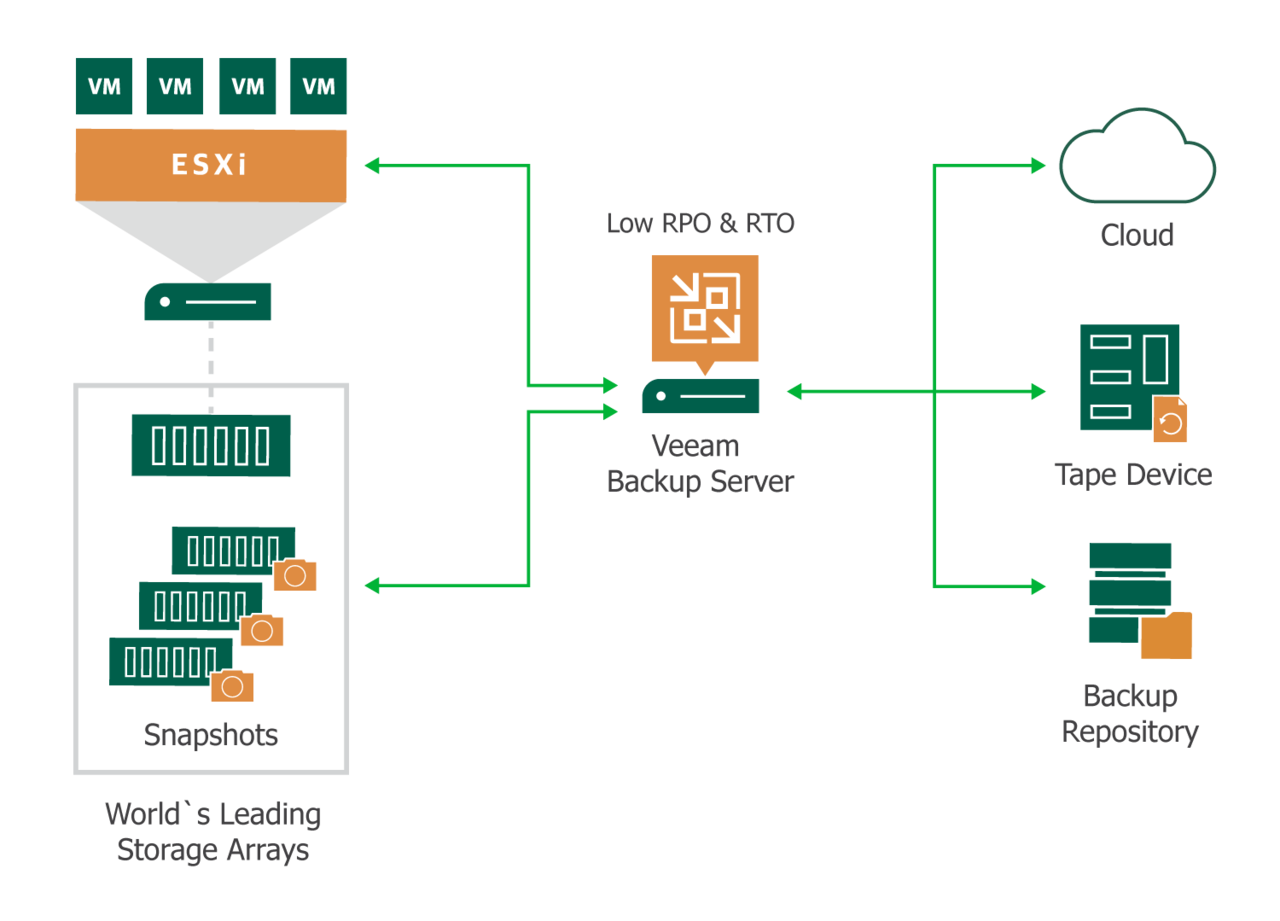 Dramatically Improve VMware vSphere Backup
Taking VMware vSphere snapshots can significantly slow virtual machine (VM) performance and require considerable effort to meet SLAs.
Veeam improves this process by providing built-in integration with your production storage and leveraging storage snapshot functionality to reduce the impact on the environment from vSphere snapshot removal during backup and replication.
Don't be stuck with once-a-day backups for I/O intensive workloads—make backups and replicas as often as every 15 minutes!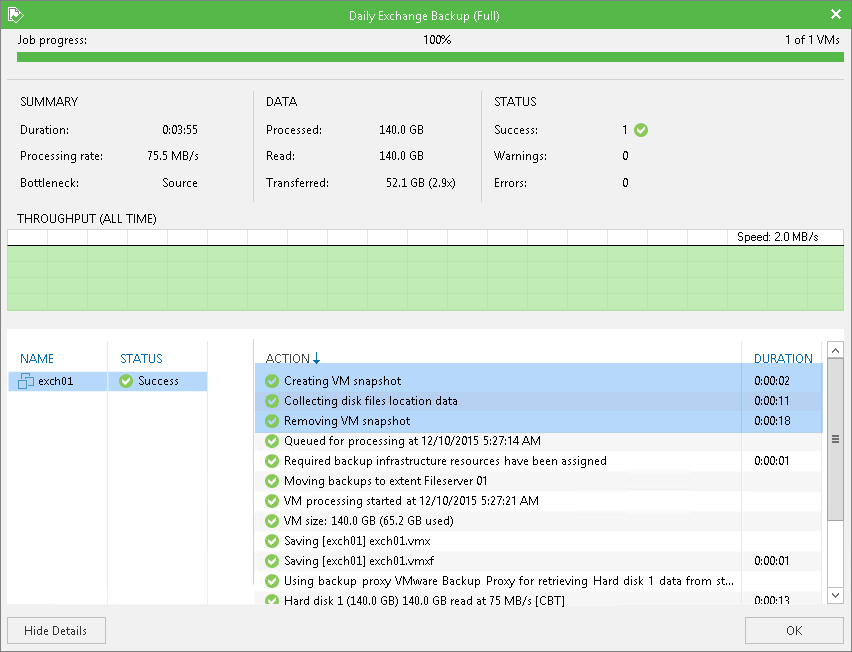 Reduce the Impact on Your Environment
Storage snapshots can be taken frequently with minimal impact to the production environment, but this can't be your only backup solution. What if storage itself goes down or gets corrupted? Even with storage-based replication, you need to take your data out of the single-fault domain. This is why many customers prefer to also make true backups stored on different storage.
Veeam combines the best of both worlds with vSphere snapshots for application-consistent backups and storage snapshots for fast RPOs. Now you can:
Run backups at any time and frequency to improve RPOs
Dramatically reduce the impact of backup activities on your production environment
Speed up the process and back up from storage snapshots up to 50 times faster than with competing solutions
How It Works:
Veeam Backup & Replication works with storage providers and VMware to create backups and replicas from storage snapshots. The backup/replica job:
Analyzes which VMs in the job have disks on supported storage.
Triggers a vSphere snapshot for all VMs located on the same storage volume. (As a part of a vSphere snapshot, Veeam's application-aware processing of each VM is performed normally.)
Triggers a snapshot of the storage volume once all VM snapshots have been created.
Retrieves the CBT information for VM snapshots created in step two.
Triggers the removal of vSphere snapshots on production VMs.
Mounts the snapshot to a backup proxy connected to the storage fabric.
Reads new and changed virtual disk data blocks directly from the storage snapshot and transports them to the backup repository or replica VM.
Removes the storage snapshot once all VMs are backed up.
As a result, VMs run off snapshots for the shortest possible time, while jobs obtain data from VM snapshot files preserved in the storage snapshot. Because of this, VM snapshots do not get a chance to grow and can be committed very quickly without overloading production storage with extended merge procedures, as is the case with classic techniques for backing up from VM snapshots, Read more
Restore from a Storage Snapshot in Minutes
With Veeam Explorer for Storage Snapshots, you can take advantage of the low overhead that periodic storage snapshots offer for low RPOs and let Veeam automate the whole recovery process for you, helping you deliver low RTOs as well. With this product, you can:
Recover guest OS files, application items or even an entire VM from a storage snapshot in two minutes or less.
Restore directly from storage snapshots, eliminating the need for staging snapshot contents to disk and intermediate restores.
Reduce the time needed to mount snapshots by over 10 times compared to manual processes, which lowers your RTOs and avoids human errors that can occur during critical recovery steps.
And more!
And it's easy to use — just a few clicks in the Veeam interface and you can restore directly from any of Veeam's storage partners.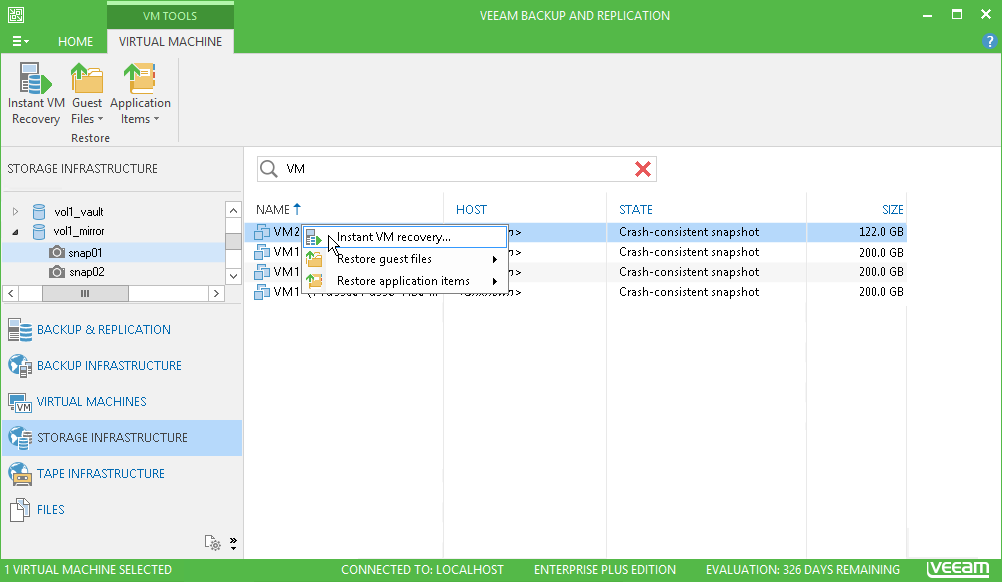 How It Works:
Veeam works with the world's leading storage providers to enable granular recovery from storage snapshots.
Here's how it works:
 Storage is instructed to create a writeable copy of the required volume snapshot.
This copy is mounted as the new datastore to the selected vSphere host.
The restored VM is temporarily registered on the host so Instant VM Recovery® of the entire VM can be immediately performed.
For granular restores, the backup server further mounts the temporary VM's virtual disk through VMware VADP, and then the user can start restoring guest OS files and application items.
After recovery is complete, the datastore is unmounted from the proxy host and a copy of the volume snapshot is deleted.
Comprehensive backup software for all workloads

Check out: Veeam Backup for Microsoft Office 365
Microsoft 365 For Business enables your enterprise to work anywhere, anytime, without the need to host your own email, files and SharePoint infrastructure. Even though Microsoft hosts the infrastructure, this doesn't replace your responsibility to backup business-critical Office 365 data. Click here
Contact us to get more information
Why pay extra, when you can pay less?