Microsoft Defender For Office 365
Protect all of Office 365 against advanced threats like business email compromise and credential phishing. Automatically investigate and remediate attacks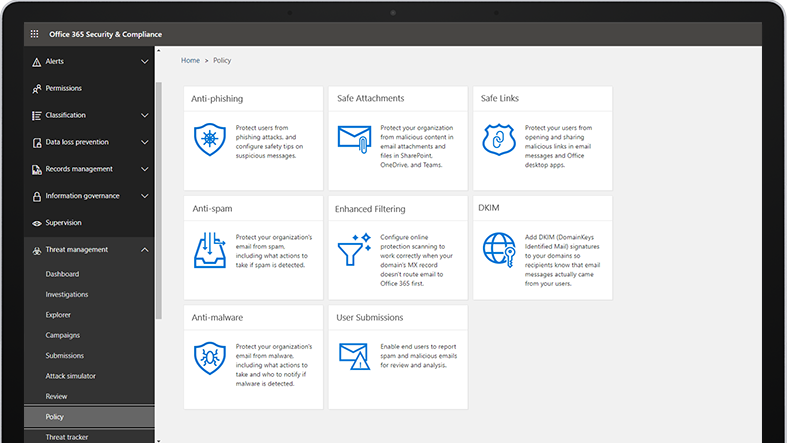 Native protection for Office 365
Built-in protection simplifies administration, lowers total cost of ownership, and boosts productivity.

Industry-leading AI and automation
Unparalleled scale and effectiveness with powerful automated workflows improve SecOps efficiency.

Comprehensive approach
A complete solution for collaboration protects organizations from attacks across the kill chain.
A holistic view of threat protection
Defender for Office 365 supports organizations throughout the lifecycle of an attack.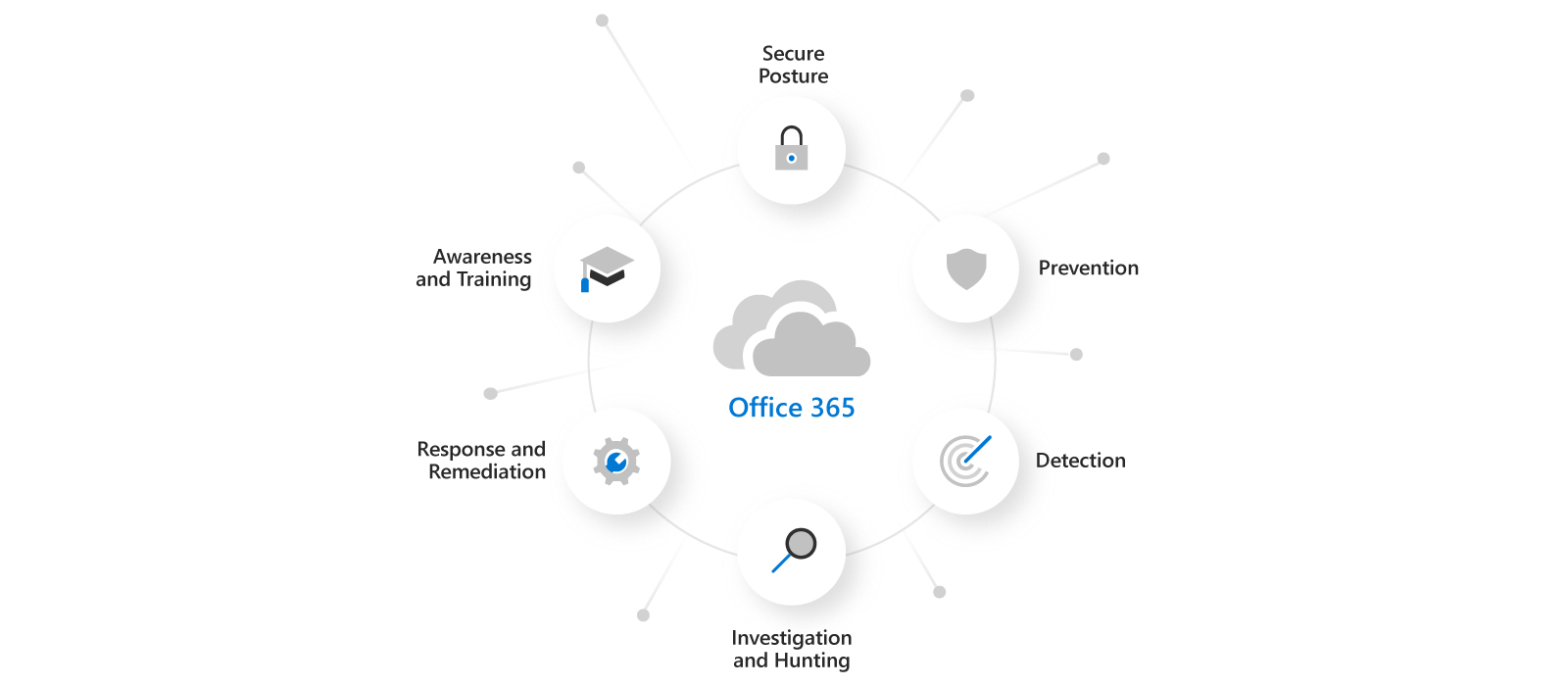 Defender for Office 365 helps organizations secure their enterprise by offering a comprehensive slate of prevention, detection, investigation and hunting, response and remediation, awareness and training, and secure posture features.
Microsoft Defender for Office 365 Plans
Microsoft Defender for Office 365 Plan 1:
Configuration, protection, and detection capabilities:
ATP for SharePoint, OneDrive, and Microsoft Teams
Anti-phishing in Defender for Office 365 protection
Microsoft Defender for Office 365 Plan 2:
Microsoft Defender for Office 365 Plan 1 capabilities
— plus —
Automation, investigation, remediation, and education capabilities:
Automated investigation and response
Advanced Outlook.com security for Office 365 subscribers
All Outlook.com users benefit from spam and malware filtering. For Microsoft 365 Family and Microsoft 365 Personal subscribers, Outlook.com performs extra screening of the attachments and links in messages you receive.
Attachments
When you receive messages with attachments, Outlook.com scans the attachments for viruses and malware using advanced detection techniques that provide a higher level of protection than the free version of Outlook.com. If Outlook.com detects a dangerous file, it will be removed so you don't accidentally open it.
Safelinks
When you receive messages with links to web pages, Outlook.com checks whether the links are related to phishing scams or are likely to download viruses or malware onto your computer. If you click a link that is suspicious, you will be redirected to a warning page like the one below.
Microsoft 365 for enterprise
Microsoft 365 for enterprise is a complete, intelligent solution that empowers everyone to be creative and work together securely.
Microsoft 365 for enterprise is designed for large organizations, but it can also be used for medium-sized and small businesses that need the most advanced security and productivity capabilities. Read More
Microsoft 365 For Business
Microsoft 365 For Business with Microsoft Teams can help your business enable secure remote work and reduce costs, Chat, call, host online meetings, and collaborate in real time, whether you're working remotely or onsite. Get one integrated solution including Teams, OneDrive cloud storage, and Office apps with advanced security options—at a price that's right for your business.
Microsoft 365 is the productivity cloud designed to help each of us achieve what matters, in our work and life, with best-in-class Office apps, intelligent cloud services, and advanced security.
Contact us to get more information
Why pay extra, when you can pay less?