Microsoft 365 Business Voice with Calling Plan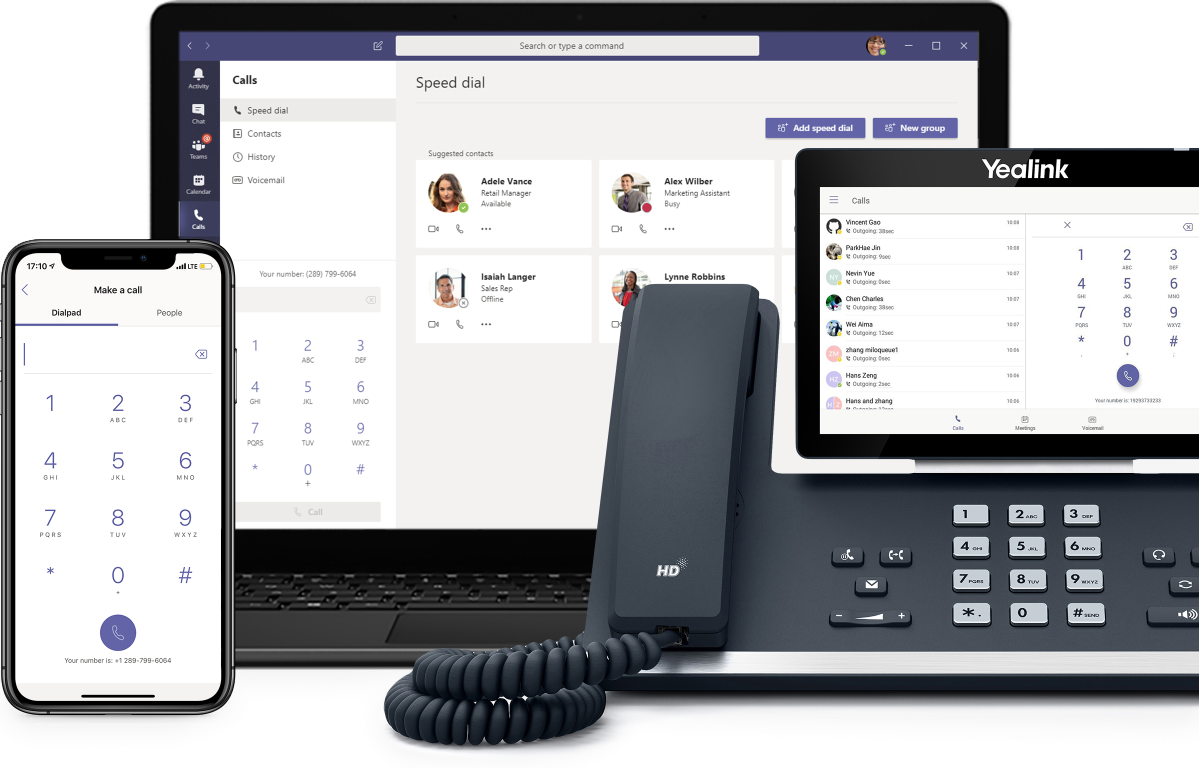 MICROSOFT 365 BUSINESS VOICE
Microsoft 365 Business Voice makes it easy for small and medium organizations to turn Microsoft Teams into a powerful and flexible telephone system. It's a replacement for traditional telephony providers and in-house phone systems that can be difficult and costly to manage. You can set up both toll and toll-free numbers, call menus to help callers get to the right department, audio conferencing so you can host meetings with anyone, and more. You can even give people their own phone numbers so they can get calls directly.
Calling Plan
Microsoft 365 Business Voice is a modern cloud-based telephony solution in Microsoft Teams. Together they deliver an all-in-one communication solution bringing together calling, chat, and meetings into a single application.
ONE SOLUTION TO EVERYTHING
Business Voice is right for you if your organization has 300 or fewer people and you have one the following Microsoft 365 subscriptions:
Microsoft 365 Business Basic
Microsoft 365 Business Standard
Microsoft 365 Business Premium
Microsoft and Office 365 Enterprise E1 or E3
Microsoft 365 and Office 365 Education A1 or A3
Microsoft 365 and Office 365 Government G1 or G3
Microsoft 365 Nonprofit Business Basic
Microsoft 365 Nonprofit Business Standard
Microsoft 365 and Office 365 Nonprofit E1 or E3
Business Voice is available in over 70 countries and regions. Whether you can set up Business Voice on your own, transfer phone numbers to Microsoft 365, and manage your phone numbers in Microsoft 365, depends on the country or region in which your Microsoft 365 tenant is located.
WHEN YOU BUY BUSINESS VOICE, YOU GET THE FOLLOWING FEATURES AND MORE:
PHONE SYSTEM
Standard phone features include Voice Mail, Caller ID, call menus, shared phone lines, and emergency calling.
DOMESTIC CALLING
Calls within your country or region are free. International plans and toll-free dialing are also available.
AUDIO CONFERENCING
Lets you host conference calls with people who don't have Teams or don't have an internet connection.
CALLING, CHAT, AND MEETINGS IN A SINGLE APP
Simplify your communications by unifying calling with chat and meetings in Microsoft Teams. Your contacts and calendar are connected across Teams and Outlook. And take collaboration to the next level by using Word, Excel, and PowerPoint within calls and meetings.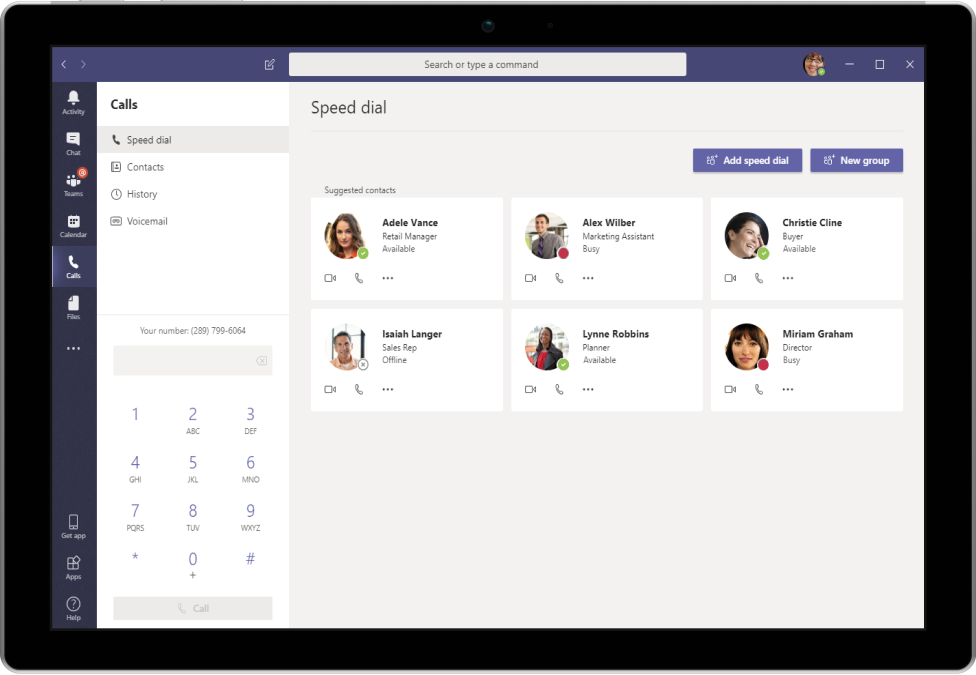 CALL FROM ANYWHERE, ON ANY DEVICE
Stay connected with a single phone number across your computer, mobile device, and desk phone. Get a consistent experience across devices with the Microsoft Teams app and Teams devices. Make calls and join meetings with one-click.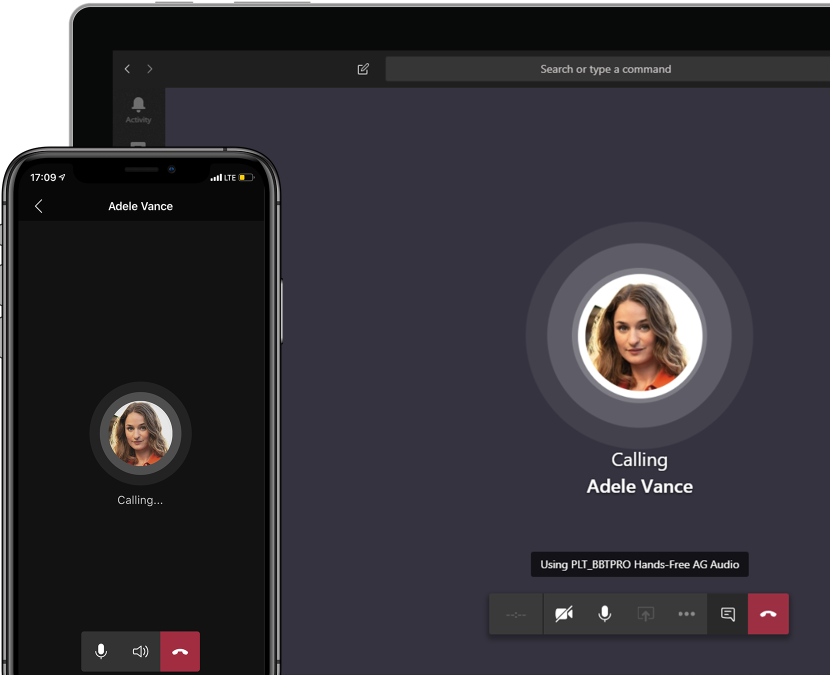 DELIVERED FROM MICROSOFT'S TRUSTED CLOUD
Keep your business secure and running smoothly with an enterprise-grade phone system. Microsoft's cloud provides built-in redundancy and load balancing with a 99.9% uptime guarantee. Plus, you get cloud-powered AI with voicemail transcription, inline chat translation, and real-time captioning in meetings.
Simplified setup, billing, and management
Save time and money with a single provider for all your communications. Easily manage your phone system from the familiar Microsoft 365 admin console, adding phone numbers in minutes. Enjoy a cloud-based phone system without the hassle and costs of maintaining a PBX.

Auto attendant
Answer inbound calls and easily route them to the right queues. Set parameters to route calls by time zone, language, or availability.

Call queues
Create custom greetings, play music for customers waiting on hold, and set up shared voicemail.

Microsoft Calling Plans
Quickly procure and assign numbers or port existing phone numbers. Available in ten countries. Call from anywhere, on any device through the Microsoft Teams app on desktop, mobile, web, and desk phones.

Contact center integration
Connect to your favorite contact center software, Cloud-based phone system with advanced features including call transfer, multilevel auto attendants, and call queues.

Microsoft Teams-certified devices
Have a consistent Teams experience on personal and shared devices.

Cloud voicemail
Access voicemail messages and transcriptions anywhere from any device.

Cloud compliance recording
Easily connect to partner compliance recording solutions.

Direct Routing
Use your existing telecommunications providers by directly connecting their SIP trunks to Microsoft Teams.

Audio Conferencing
Add flexibility to meetings with a dial-in number, included in every online meeting up to 250 people per meeting.

Customer Service
Around-the-clock customer support seven days a week, backed by Microsoft.
Business Voice is available in over 70 countries and regions. Whether you can set up Business Voice on your own, transfer phone numbers to Microsoft 365, and manage your phone numbers in Microsoft 365, depends on the country or region in which your Microsoft 365 tenant is located.
Microsoft Teams
Microsoft Teams is replacing other Microsoft-operated business messaging and collaboration platforms, including Skype for Business and Microsoft Classroom, Microsoft Teams primarily competes with the similar service Slack, offering workspace chat and videoconferencing, file storage, and application integration.
Upgrade from Skype for Business to Teams
Teams is the primary client for intelligent communications in Microsoft 365 and Office 365, and it'll eventually replace Skype for Business Online. To stay on top of new features coming to Teams, see the Microsoft 365 Roadmap. To complement persistent chat and messaging capabilities, Teams offers a comprehensive meeting and calling experience, with built in, fully integrated voice and video. Check out Teams is now a complete meeting and calling solution in the Microsoft Teams Blog.
If you're running Skype for Business and are ready to upgrade to Teams, or if you're running Skype for Business and Teams side-by-side and are ready to fully move to Teams, we have the tools, tips, and guidance to help make your transition successful. To learn more, see Upgrade to Teams.
Teamwork
Every team is different; there's no one-size-fits-all approach to collaboration. Microsoft 365 and Office 365 are designed to meet the unique needs of every team, empowering people to communicate, collaborate, and achieve more with purpose-built, integrated applications.
When deciding which Microsoft 365 or Office 365 apps and services to use, think about the work your organization does and the types of conversations your teams need to have.
Teams, as the hub for teamwork, is where people – including people outside your organization – can actively connect and collaborate in real time to get things done. Have a conversation right where the work is happening, whether coauthoring a document, having a meeting, or working together in other apps and services. Teams is the place to have informal chats, iterate quickly on a project, work with team files, and collaborate on shared deliverables.
Outlook for collaborating in the familiar environment of email and in a more formal, structured manner or when targeted and direct communication is required.
SharePoint for sites, portals, intelligent content services, business process automation, and enterprise search. SharePoint keeps content at the center of teamwork, making all types of content easily shareable and accessible across teams. Tight integration with Outlook, Yammer, and Teams enables seamless content collaboration across conversation experiences.
OneDrive for Business for storing files and sharing them with people that a user invites. Content that a user saves to OneDrive for Business is private until the user shares it with others, making it the best option for storing personal and draft documents that are not intended to be shared or not ready to be shared.
Yammer to connect people across the organization. Drive company-wide initiatives, share best practices, and build communities around common topics of interest or areas of practice. Crowdsource ideas to foster open discussions with people across the company.
Office apps are all the familiar tools that people know and use regularly, including Word, Excel, PowerPoint, and OneNote.
Microsoft Phone System – key features to meet your business needs
| Feature | Microsoft 365 Business Voice |
| --- | --- |
| Local numbers | Yes |
| VoIP calling | Yes |
| Auto attendants | Yes |
| Call queue | Yes |
| Caller ID | Yes |
| Call routing | Yes |
| Emergency calling | Yes |
| Emergency calling with dynamic location | Yes |
| Voice Mail | Yes |
| Call park | Yes |
| Call forwarding | Yes |
| Call delegation (share a phone line with a delegate) | Yes |
| Music on Hold | Yes |
| Call block | Yes |
| Auto attendant Extension Dialing | Yes |
| Auto attendant/call queue transfer to shared voicemail | Yes |
| Multilingual Interactive Voice Response (IVR) | Yes |
| Calling policy | Yes |
| Domestic Calling Plan* | Yes |
| Toll-free dialing* | Yes |
| International Calling Plan* | Yes |
| Audio Conferencing | Yes |
* Toll-free dialling and the International Calling Plan are available at additional cost. more information
Contact us to Get Your
ONE Month Free Trial
Why pay extra, when you can pay less?